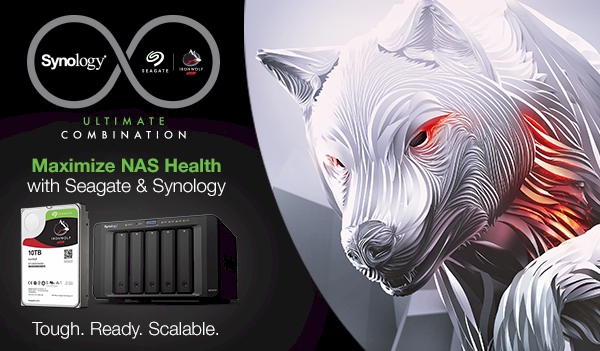 KEY IRONWOLF HEALTH MANAGEMENT CAPABILITIES:
PREVENTION, INTERVENTION AND RECOVERY
The introduction of IHM enables IronWolf HDDs to provide even greater value to your customers who purchase Synology NAS enclosures. Focusing on three key capabilities - prevention, intervention and recovery - IHM delivers:
| | | |
| --- | --- | --- |
| | | |
| Prevention by monitoring the user environment and recommending preventative actions to enable a superior NAS experience | Intervention by analyzing hundreds of parameters to recommend backup ahead of catastrophic data loss events | Recovery in the event of fatal failures, by having access to Seagate Data Recovery Services, included with IronWolf Pro for 2-years, ensures a secure environment for data recovery |


Take preventative action to protect your customers' NAS solutions with Seagate IronWolf Health ManagementTM(IHM), now available exclusively on Synology NAS products.

IronWolf Health Management is designed to operate on enabled Synology DiskStation NAS, populated with supported IronWolf or IronWolf Pro HDDs. It aims to improve the overall system reliability by enabling prevention, intervention or recovery options for the user.
IRONWOLF HEALTH MANAGEMENT HEALTH STATUS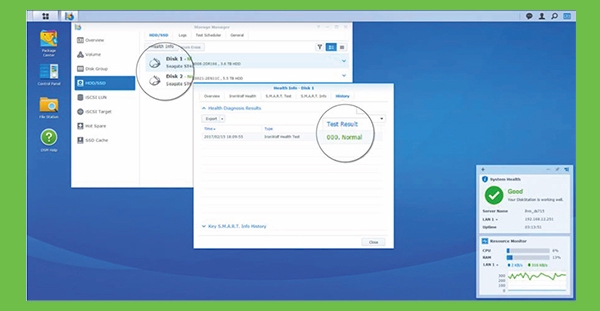 This close collaboration between Seagate and Synology offers other benefits: Should drive damage occur, your customers can utilize the seamless linkage within the UI to Seagate&reg Rescue and Recovery plans, ensuring their complete peace of mind when using IronWolfTM HDDs in Synology NAS enclosures.


Not a SPP Member? Sign up today!
Unsubscribe | Privacy Policy | Web Version

| | |
| --- | --- |
| © 2017 Seagate Technology LLC. All rights reserved. Seagate, Seagate Technology, and the Spiral logo are trademarks or registered trademarks of Seagate Technology LLC or one of its affiliated companies in the United States and/or other countries. All other trademarks or registered trademarks are the property of their respective owners. Complying with all applicable copyright laws is the responsibility of the user. Seagate reserves the right to change, without notice, product offerings or specifications. | |