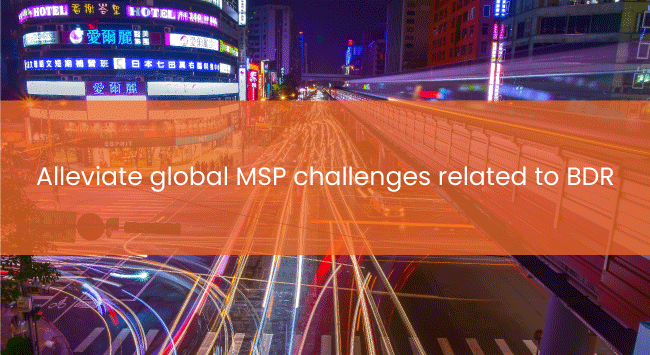 Regardless of continent, Continuum can help alleviate these all too common BDR challenges

• How much time is your team spending on BDR related ticket remediation today?
• Time spent on those tickets is a part of your TCO, and drags down your BDR contract
profitability
• Our BDR suite provides true 24/7 proactive monitoring, remediation and disaster
assistance by our NOC
• Redeploy and elevate technical resources into client facing, revenue generating
and/or career enhancing activities
• Transformational business model to allow scalability and profitability
• An independent analysis from Service Leadership confirms that Continuum partners
are more profitable than non-partners & achieve 8% higher profit margins & 7%
higher EBITDA.



Continuum BDR: Continuum Backup & Disaster Recovery for MSPs. What this means for you:

• Continuum BDR offers a flexible, NOC-supported
platform designed for your business
• Allowing profitability to deliver robust business
continuity services
• Lower total cost of ownership
• Spend 90% less time managing backups
• Gain peace of mind for you & your clients
• Meet any client environment & data protection needs
| | |
| --- | --- |
| | Continuum BDR: Discover the power of Continuum's backup and disaster recovery solution In this webinar, we introduce and discuss the power and flexibility of the Continuum BDR solution, as well as outline the various product and service offerings that make this the most reliable solution on the market built specifically for your managed services business. Watch today to learn why Continuum BDR is essential to your 2018 backup and disaster recovery business strategy. Watch here |

Continuum Expands Backup And Disaster Recovery Platform To Asia-Pacific Service Providers

Continuum®, the exclusive provider of the only vertically integrated IT service delivery platform that enables MSPs to scale rapidly and profitably, today announced that its backup and disaster recovery offering, Continuum BDR, is now available in the Asia-Pacific market. The expansion of Continuum BDR, supported by the IBM Cloud data center in in Sydney, Australia, brings the most reliable and cost-effective backup and disaster recovery (BDR) solution on the market to IT service providers in the region.
Read more

Continuum is the IT management platform company that allows Managed IT Services Providers (MSPs) to maintain and back up on-premise and cloud-based servers, desktops, mobile devices and other endpoints for their small- and medium-sized business clients. We are a channel-exclusive provider of managed IT services, which means we succeed when our partners do. Our growth is YOUR growth.

Continuum was founded in 2011 with more than 1,400 employees worldwide in offices in Boston, Pittsburgh, Houston, London, Mumbai and Sydney.