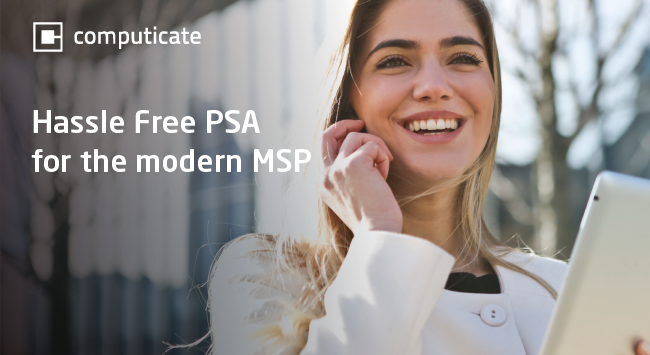 Getting this done the easy way is exactly where Computicate PSA makes the difference:

• SaaS and out-of-the-box, up-and running in 1 business day.
• Takes away the hurdles of complexity and costs associated
with traditional Professional Services Automation solutions.
• Integrates seamlessly with your existing managed services tooling.
• Saves you money, time and headaches.
• Pay as you go. No contract, no strings attached.
• Founded and run by MSP veterans who understand your business.

Computicate PSA is the "hassle free" Professional Service Automation platform for Managed Service Providers of all sizes that aim to grow, streamline their business and deliver world class services. Launched in 2016, Computicate PSA delivers its cloud-based platform to MSP's worldwide. Computicate PSA is headquartered in the Netherlands.




"Hassle free PSA" goes Down Under

Computicate PSA, the "hassle free", Professional Services Automation platform for MSP's, that enables Managed Service Providers of all sizes to easily adopt and use a PSA to run their services operations, today announced their expansion into the Australian market. Computicate PSA has entered into a distribution agreement with Bluechip Infotech, one of Australia's leading distribution networks for MSPs. ...More info

What Computicate will bring you

• Real-time dashboard + reporting
• CRM + sales
• Powerful ticketing
• Automated time registration
• Automated billing
• Access on the move
• User friendly + easy onboarding
• Seamless integration
• Localizations
• A hassle-free PSA experience ... More info

The complete IT Business Management solution that will get you In Control. Whether you run a small business, mid-market or enterprise MSP, Computicate will make your business more profitable.
Watch video >>